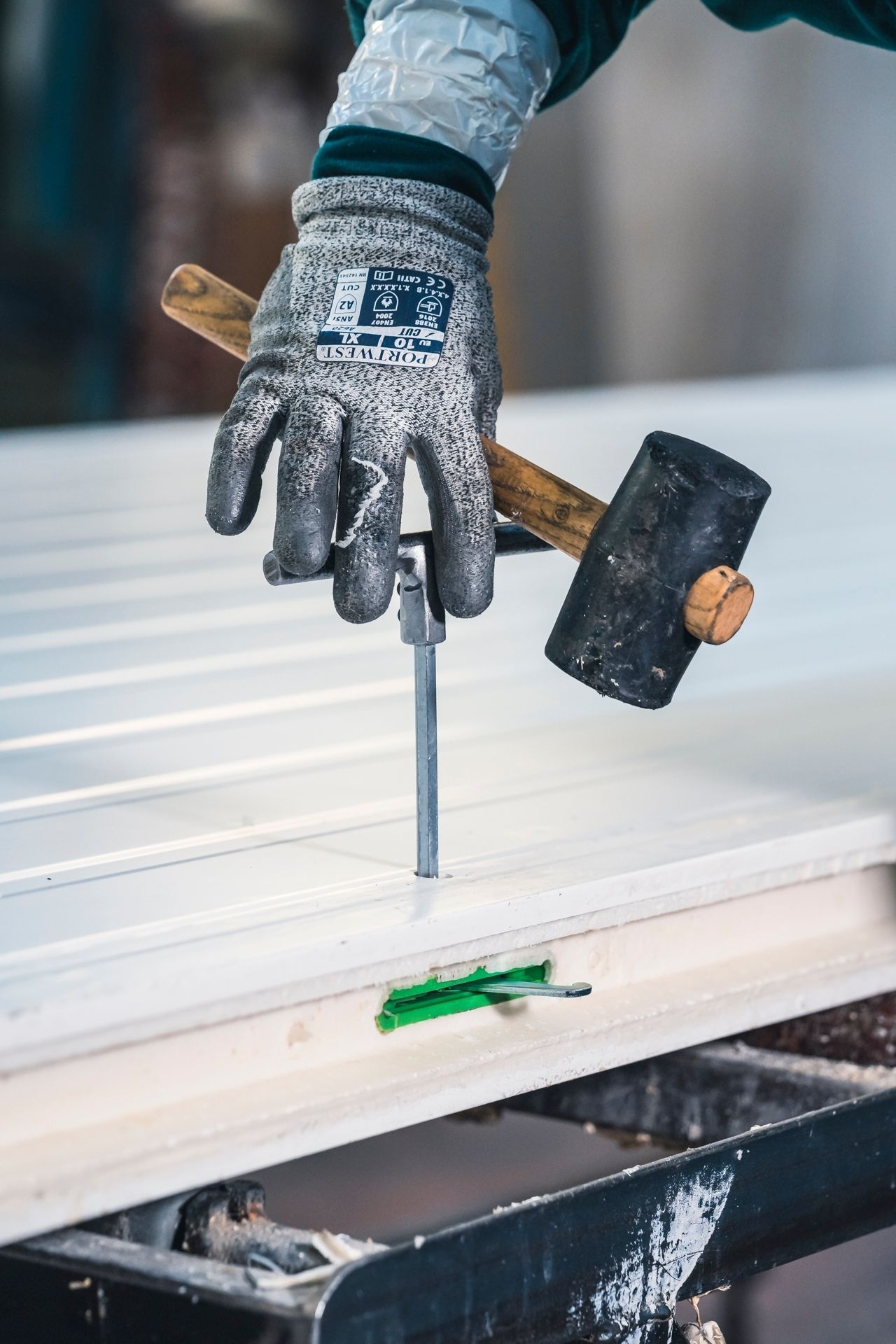 The details that make the difference
Frigor Box works are characterized by high quality components, designed and produced in the company, which represent all our know-how. Our cold rooms are composed of self-supporting walls whose panels fit together using the cam lock, an innovative system implemented since the establishment of Frigor Box. This simple panel assembly system allows the cold room to be assembled in a very short time and without any tools. The assembly takes place from the cold room inside, by means of cam locks, which allows to fully exploit the available space.
An innovative and tailor-made design
Frigor Box International uses 3 CAD Lite software to bring commercial coldrooms, industrial coldrooms and doors designs to life. From the idea to the virtual realization, to better structure every detail of the solution requested by the client. The customer can thus view the final request and take advantage of a complete and professional service. In addition to making accurate renderings of the project, it represents a quick and precise tool for drawing up clear quotations in a very short time! The development of the coldrooms design is the initial and crucial phase of the manufacturing process and takes place in full transparency and reliability, even remotely. Each project is designed in the smallest components by our technical department and we make this advanced instrument available to our sales network and business partners through training and virtual coaching.
An efficient and structured production process
To guarantee Frigor Box quality, we design and manufacture components and products ourselves. The control of each phase ensures quality and allows to carry out customized systems, from the selection of the cladding to the dimensions passing through the characteristics of the controller.
The cladding sheets of panels and doors are prepared, cutting the chosen raw material according to the required dimensions. In the meantime, cam locks and spacers are also created to be inserted inside the panel before foaming. Once the polyurethane foaming has been carried out, quality control of the resistance of the cam locks and the proportions of the wall follows, comparing with the project. In other departments of the 15,000 square meter headquarters, we proceed with the production of the doors. The assembly of the refrigeration unit follows, entirely developed in Frigor Box: it is all handcrafted, including the frame, and has few welds so as to limit breakages and ensure more performance, reaching up to 200 kW for blast chillers and freezers.
Before being delivered disassembled, each process is tested to check its efficiency and compliance with the requirements.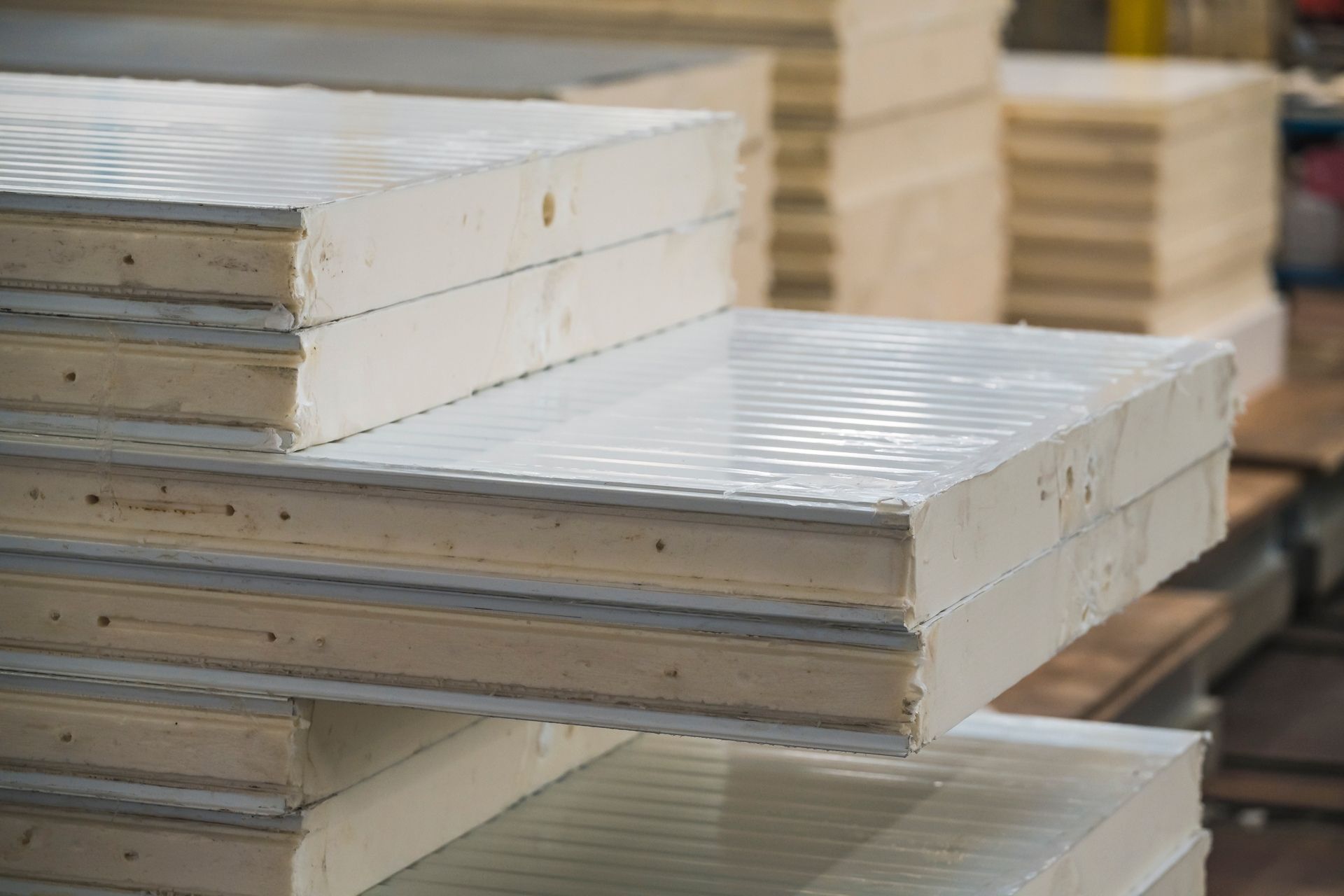 GUIDE TO THE CHOICE OF CLADDINGS FOR PREFABRICATED PANELS
| | | | |
| --- | --- | --- | --- |
| | | | |
| Prepainted galvanized steel | | use to be considered case by case | use to be considered case by case |
| PVC-coated galvanized steel | | use to be considered case by case | use to be considered case by case |
| | use to be considered case by case | use to be considered case by case | use to be considered case by case |
| | | | |
ENVIRONMENT CLASSIFICATION TABLE RELATIVE TO THE TYPE OF AGGRESSIVENESS
SLIGHLY AGGRESSIVE ENVIRONMENT

– Controlled Atmosphere (U.L.O.) cold room
– pre-cooling room
– Packing room, fruit storage cold room

– Meat storage cold room: temperature equals to/below/above 0°C
– Meat cooling room

– Milk, butter and fresh products storage cold room temperature above 0°C

MEDIUM AGGRESSIVE ENVIRONMENT

– Fruit and vegetable preparation department
– Pre-cooked food preparation department

– Poultry slaughter room
– Offal storage cold room (temperatures above 0°C)
– Salami/sausage departments
– Meat processing department

– Ice cream production rooms
– Butter production rooms

VERY AGGRESSIVE ENVIRONMENT

– Tripe room
– Salami and brine room
– Sausage drier
– Smoking chamber
– Cooking salt

– Milk preparation room
– Cheese preparation room
– Cheese drier
Frigor Box guides you to the perfect panel for your solution
Rely on refrigeration experts to choose the most suitable panel for your business. Experience, skills and knowledge of applicable laws are essential.
A feature of the Frigor Box panel is the possibility of having the lateral edge built at the cladding sheet so that the joints are more precise and clean, without resorting to PVC edge profiles.
For an appropriate choice of the type of cladding, it is necessary to establish the degree of aggressiveness of the environment (both internal and external), to which the panels are intended. For this purpose, the following tables have been drawn up (Ref. UNI 10933 JUNE 2001) aimed at identifying the class of the environment to be created.
Fiberglass, something extra
It is the most sustainable and valid material on the market, we produce about 2000 square meters of fiberglass panels per week. There are many variables for the composition: we evaluate according to the product and the environment for which it is intended. In addition to being an alternative, fiberglass can be complementary with metal and sheet metal constructions. Surely the most suitable cladding for aggressive environments, thanks to the resistant plastic structure that avoids the problem of rust. The Frigor Box fiberglass panel is made thanks to a special formula that makes it unique. Through modern technologies and its composition, it guarantees a uniform product over its entire surface. This allows the cold rooms and industrial plants to remain intact over time even if subject to bumps and scratches. Through small sanding and restoration operations, the wall can be as good as new, unlike steel which is filled with dents.

Suitable for food environments and certified for contact with food

Lightweight and durable over time

Dimensionally stable

Able to absorb shocks

Resistant to chemical and atmospheric corrosive agents, to microorganisms

Thermally insulating

Waterproof and easily washable

Requires minimum maintenance

Tensile strength: 800 Kg/cm2, Flexural strength: 1,700 Kg/cm2, Compression strength: 1,400 Kg/cm2

The rough surface in contact with polyurethane guarantees a chemical-mechanical adhesion greater than 1.8 Kg/cm2
It is the ideal solution for all washing rooms and for environments used for preparing fish, meat (tripe, salami and sausages, drying room, smokehouse, cooking room), milk and cheese processing departments.
The fiberglass panels designed by our research and development department require the use of gelcoat in large quantities (minimum 500 g/m2 each side), consisting of isophthalic resins equipped with anti-UVA stabilizers, ozone-friendly dicyclopentadiene resin with low styrene continuity, high quantity of glass fiber, alumina and other powder components (no calcium carbonate).